Makes: 16 Chouriço Rolls    Oven: 180 °C / 350 °F
Preparation Time: 1 hour 30 minutes    Baking Time: 15 – 20 minutes
Ingredients
| | | |
| --- | --- | --- |
| 500 | g | Cake flour ( 4 x 250 ml / 4 cups ) |
| 5 | ml | Salt ( 1 tsp ) |
| 5 | ml | Sugar ( 1 tsp ) |
| 10 | g | Anchor Instant Yeast ( 1 packet ) |
| 250 | ml | Lukewarm water ( 1 cup ) |
| 60 | ml | Oil ( ¼ cup ) |
| 30 | ml | Olive oil ( 2 tbsp ) |
| | | |
| --- | --- | --- |
| 2 | | Chouriço sausages, cut into pieces |
| 250 | ml | Cheddar cheese ( 1 cup ), grated |
| 1 | | Beaten egg, to brush |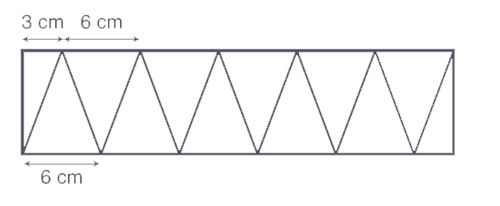 Method
Mix the cake flour, salt and sugar together. Add the Anchor Instant Yeast and mix.
Mix water and oil and add to the flour mixture to form a soft dough. Add about 15 – 30 ml of lukewarm water, should the dough be too dry.
Knead the dough until smooth and elastic, about 10 minutes.
Cover the dough with lightly greased plastic and leave to rest for 5 minutes.
Knock the dough down and roll out into a 50 x 10 cm rectangle. Lift the rolled out dough up to shrink back and place onto the surface. Start on the bottom left hand corner of the dough and make a mark, and then every 6 cm until the end. On the top left hand corner – measure 3 cm and make a mark. Thereafter make a mark every 6 cm until the end. (See diagram above for cutting).
Line up the bottom markings with the top markings in a zig-zag pattern and cut the dough up and down to each mark.
You should now have 16 triangles.
Brush the triangles with olive oil.
Sprinkle each triangle with chouriço sausage pieces and grated cheese.
Roll each triangle up into a roll, starting from the wide end of the triangle and rolling
up to the point of the triangle.
Place each roll onto a greased baking tray and cover with lightly
greased plastic and allow to rise for 15 – 20 minutes.
Brush gently and evenly with egg and bake in
a preheated oven for 180 ˚C / 350 ˚F for
15 – 20 minutes, until golden brown.